END OF TENANCY CLEANING SERVICE
BOOK YOUR END OF TENANCY CLEANING SERVICE TODAY!
Deciding to move houses can be a big step for anyone. With all that is happening in that period, the last thing you want to worry about is making sure that your home is as clean as you first found it. This is also crucial in making sure you and your landlord part ways on favourable terms and that there arises no need to deduct an amount from your deposit.
Luckily, we at glimmr have got you covered. We provide the highest quality end of tenancy cleaning service that is designed to restore your home to pristine condition. Visit our booking page to book your end of tenancy cleaning service .
How is this different from a regular house cleaning service?

A regular house cleaning service is designed to keep your home clean throughout the year and should be performed at regular intervals. An end of tenancy cleaning service is designed to be used only when your tenancy period is about to expire and you wish to restore your home to the way you found it at the start of your tenancy. As a result, this type of cleaning naturally goes into more depth.
We serve your area!

If you're looking for end of tenancy cleaning services, we are here to help. We are equipped to clean properties of any size. For more information on our service, simply drop us an email at support@glimmr.co.uk or give us a ring at 02081588505.
What is included with my clean?

When our cleaners visit your home, they clean according to a specially formulated home cleaning checklist. This checklist has been designed to ensure that we provide a stellar clean for your home with each visit.

Here are all the items that are included as part of our end of tenancy cleaning service: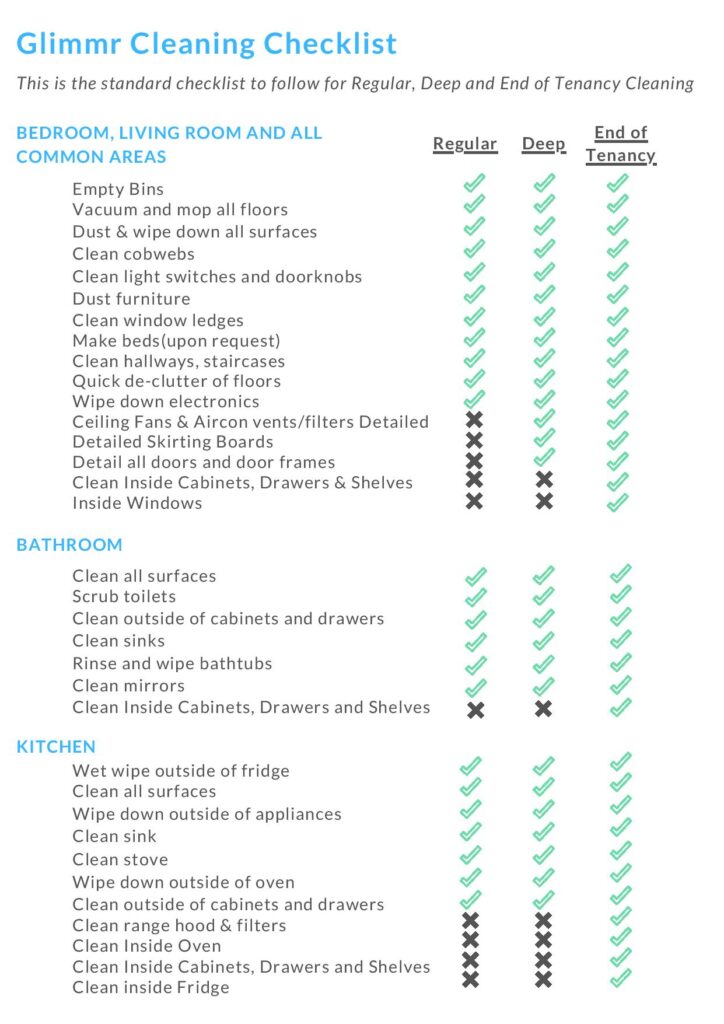 It is important to bear in mind that just like snowflakes, no two homes are ever the same. Since our service is customised for your home, not all of the above items may be relevant or performed each time in your home. Our professional cleaners have been trained to spot what needs cleaning and what doesn't and we leave it to their discretion. This means that some areas will receive more attention than others depending on the condition of your home at the time.
Glimmr's 5 tips for a hasssle free end of tenancy clean

We at glimmr have a host of experience with end of tenancy cleanings. Here are some of the things we reccomend you have in place to make sure your cleaning moves along smoothly:

1. Be at home or leave a key

For end of tenancy cleans, homes are usually vacant. We find that it is usually easiest for our clients to leave their keys with a neighbour or conceirge service while we carry out our cleaning activities. This is because the alternative can usually be to wait inside an empty home, which can be especially painful if the internet connection has been terminated!

2. Make sure you still have water and electricity

Often times, tenants wish to turn off the supply of water and electricity in their homes close to when their contract is due to expire. It makes sense, why pay for electricity and water if you won't be living there anymore? The problem is that professional cleaning companies require both in order to carry out their cleaning services. So make sure to schedule your cleaning appointment before these are turned off.

3. Arrange for your cleaning a few days in advance

We understand that timelines can be very stretched when you're moving out, but it isn't usually a good idea to schedule your end of tenancy clean close to the end date of your contract. This is because, should you need to schedule a re-clean, say if something wasn't properly cleaned the first time around, there usually isn't any time to do so.

4. Make sure there isn't a schedule clash with other services

If you're scheduling appointments with other services, such as handymen, plumbers and carpet cleaners, make sure they aren't scheduled for the same day. You can imagine why scheduling a clean for the same day builders are making improvements to your home can cause some issues.

5. Allow ample time for the cleaning

An end of tenancy clean can take much longer to do than a regular house cleaning session so make sure to set aside sufficient time for this when planning to book.
Still on the fence?

Don't sweat it if you're still on the fence with this stuff. Although we try to make it as easy as possible for our customers to book with us, we understand that sometimes all you need is to talk to a friendly face. If that sounds like you, feel free to give us a ring and we'll be happy to talk you through any questions or concerns you might have about booking a professional cleaning service.
What we can't clean

Unfortunately, there are some things we don't clean as part of our end of tenancy cleaning service:

1. Light bulbs and fixtures: Light bulbs and fixtures tend to be quite fragile, which make them quite difficult to clean. Due to the liability involved, we tend not to clean these.
2. Garage and patios: Often times, cleaning garages and patios requires the use of sophisticated cleaning equipment such as pressure hoses that our cleaners don't carry.
3. Outside windows: Outside windows often require ladders and specialised equipment to clean properly. Due to this and health and safety reasons, our cleaners are only instructed to clean easy to reach sides of your windows.

If this information has helped you in making your decision, the next step is to book your next clean with Glimmr.