HOUSE CLEANING SERVICE
BOOK YOUR HOUSE CLEANING SERVICE TODAY!
We all know the feeling – the house is in chaos, it's impossible to find anything and the uncleanliness makes it difficult to relax after a tiring day at work or school. We get it. It is hard to find time for house cleaning when so many other commitments get in the way and it feels unfair to spend your remaining free time occupied with this chore after working so hard.
It is time to reclaim your time with glimmr! Book your first house cleaning in 60 seconds and never worry about this pesky chore again.
We serve your area!

If you're looking for house cleaning services in either the London or Birmingham area, we are here to help. We can clean properties of any size – be it a cosy flat or a large house. For more information on what we cover, simply drop us an email at support@glimmr.co.uk or give us a ring at 02081588505.

If you don't want a full house cleaning, that's fine too. We offer hourly rates and partial bookings. If you are struggling to select the specific cleaning solution through our booking form, simply reach out to us and we'd be happy to accommodate your request!

We are confident you'll love us

At Glimmr, we put in a lot of time and energy to make sure you are getting the best value for your money. We are so sure that you will love our service, that we offer a 200% satisfaction guarantee. What this means is that if for any reason, you aren't completely satisfied with your cleaning service, we will come back and clean your home again. If you're still not satisfied with your service, we will refund 200% of your booking fees. How's that for commitment on quality?

No quotes needed

We don't like the way other cleaning companies make customers reach out for quotes via long form submissions or in-person visits. At glimmr, simply visit our homepage, select the number of bedrooms and bathrooms you would like cleaned and immediately receive your home cleaning price. If after some inspection, we think your home could use a little extra loving, we will let you know towards the start of the clean. It's just that simple!
What is included with my clean?

When our cleaners visit your home, they clean according to a specially formulated home cleaning checklist. This checklist has been designed to ensure that we provide a stellar clean for your home with each visit.

Here are all the items that are included as part of our house cleaning service: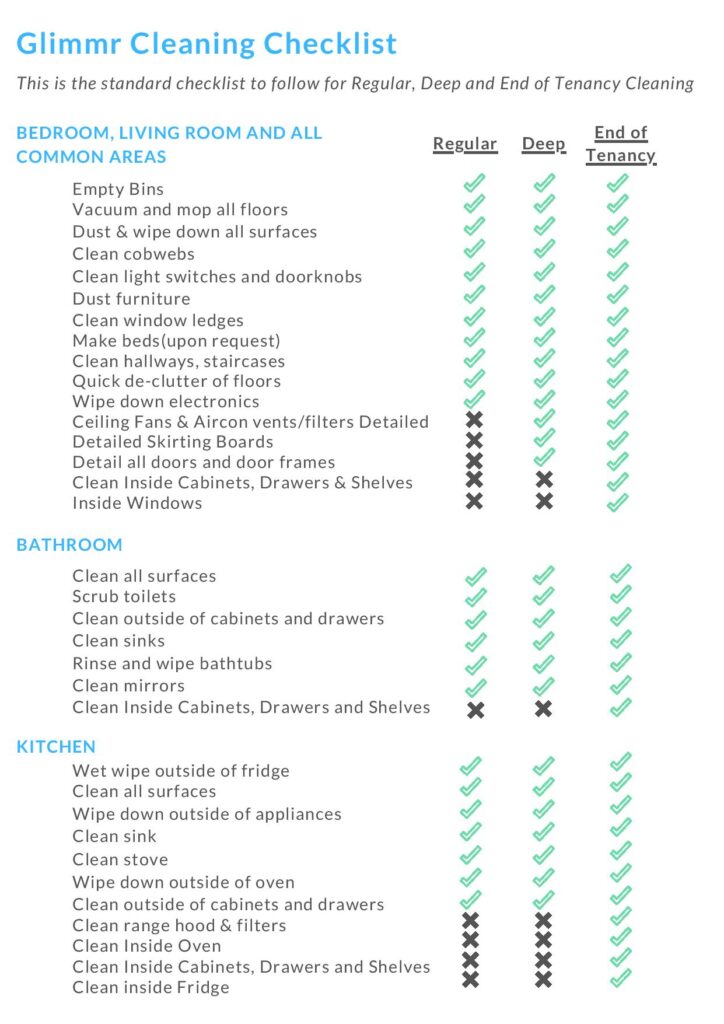 Additional services

These services don't come as part of our regular service, but can be added at your discretion. They include:

1. Cleaning inside cabinets
2. Cleaning inside windows
3. Cleaning walls
4. Laundry
5. Cleaning inside ovens
6. Cleaning inside fridges
7. Ironing

It is important to bear in mind that just like snowflakes, no two homes are ever the same. Since our service is customised for your home, not all of the above items may be relevant or performed each time in your home. Our professional cleaners have been trained to spot what needs cleaning and what doesn't and we leave it to their discretion. This means that some areas will receive more attention than others depending on the condition of your home at the time.
No commitment

Not all of us are a fan of commitment, so we at glimmr won't force you to make one. That means if you book a recurring cleaning service with us, you are free to move around your booking or cancel at any time. We only ask that you let us know at least 48 hours before your next scheduled clean. This means you get all the pros of a recurring cleaning service with none of the cons!
Still on the fence?

Don't sweat it if you're still on the fence with this stuff. Although we try to make it as easy as possible for our customers to book with us, we understand that sometimes all you need is to talk to a friendly face. If that sounds like you, feel free to give us a ring and we'll be happy to talk you through any questions or concerns you might have about booking a professional cleaning service.
What we can't clean

Unfortunately, there are some things we don't clean as part of our domestic cleaning service:

1. Light bulbs and fixtures: Light bulbs and fixtures tend to be quite fragile, which make them quite difficult to clean. Due to the liability involved, we tend not to clean these.
2. Garage and patios: Often times, cleaning garages and patios requires the use of sophisticated cleaning equipment such as pressure hoses that our cleaners don't carry.
3. Carpets: Cleaning carpets requires the use of carpet cleaning equipment that our cleaning teams don't carry at this stage.
4. Outside windows: Outside windows often require ladders and specialised equipment to clean properly. Due to this and health and safety reasons, our cleaners are only instructed to clean easy to reach sides of your windows.

If this information has helped you in making your decision, the next step is to book your next house cleaning service with glimmr.