When most homeowners hear the words "speed cleaning" they translate this into scary terms like "half clean" or "fake cleaning". Contrary to what you may imagine, speed cleaning is that 15-20 minute clean-up you do when you have guests on their way or a busy schedule. It is also a perfect method to use for your end of tenancy cleaning in Birmingham if you are out of time to book any domestic cleaners in Birmingham.
Speed cleaning your bathrooms allows you to enjoy a perfectly clean bathroom without some rigorous steps like washing or vacuuming. It comes in handy for not just one but all of your home's bathrooms, and more importantly, it makes this daunting task less challenging.
Glimmr professional cleaners in Birmingham are much experienced, and we have put together this article on how to speed clean all your bathrooms. These steps may take a minimum of 15 minutes or a maximum of 20 minutes. If you are on a 30-minute sprint, you still have time to invest in other activities.
Tools and Supplies
To speed clean, you need the right tools and supplies. The vacuum is not entirely welcome here, but if you have a few minutes to spare after the necessary process, you can use it too. P&G recommends these tools.
You will need:
Broom and Dust Pan.
Laundry Basket
Bathroom Cleaning Solution
Caddy or Container
Microfiber cloth, Paper towels, and Cleaning wipes. You can get them for cheap here.
Baking Soda, Bleach, or toilet cleaner and brush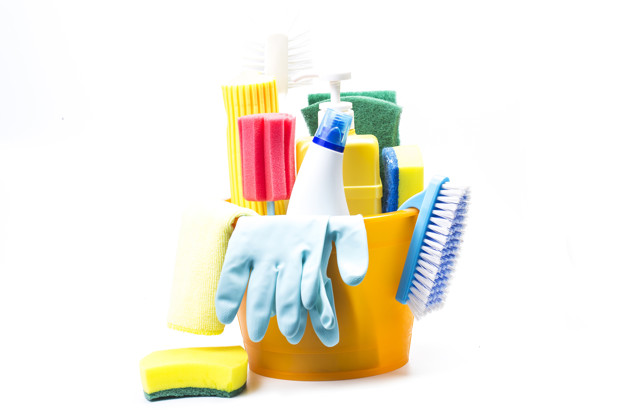 Broom and Dust Pan
At Glimmr, we have always believed in the efficiency of a broom and a dustpan. They give you the reach and flexibility to clean those tight corners and in a more quiet way.
Unlike any related cleaning material, the broom and dustpan will not be compromised by the size or form of any object. It merely sweeps obstacles out of the way. You will require them to speed clean all your bathrooms but if you feel comfortable using a hoover then by all means do.
Laundry Basket
Choose something portable and easy to move from bathroom to bathroom. All the dirty towels or clothes left lying around will go in here, then to the washing machine when ready.
Bathroom Cleaning Solution
This is a unique mixture of some materials to produce a non-toxic, biodegradable, and disinfecting cleaning solution. Of course, there are factory made solutions available in stores, but the bulk of these products are unsafe in water and air. They are common pollutants that you do not want in your home.
A homemade solution is a quicker option than going around the store reading every label. You can use the procedures below to have your homemade cleaning solution handy. You can have a look at other homemade solutions here, but this is how we at Glimmr would do it.
Water, Dishwashing liquid or washing powder, White Vinegar, Lemon, and an empty spray bottle
Pour two tablespoons of white vinegar in the empty spray bottle.
Add the juice of half the full lemon, ¼ cup of washing powder or dishwashing liquid.
Then fill the bottle half with water and shake well.
Each ingredient works together to remove stains, kill germs and dispel odours.
Caddy or Container
You will need this to move your tools from room to room comfortably. Get one that can hold the necessary supplies.
Microfiber cloth, Paper towels, and Cleaning wipes
Each of these is essential to your speed cleaning routine as they play different roles. Microfiber cloth is a vital tool to professional house cleaning in Birmingham because of their soft, absorbent nature that leaves no streaks or scratches.
The paper towels are for drying the damp surfaces, so there's no water or moisture left unattended. The cleaning wipes are especially crucial for the toilet.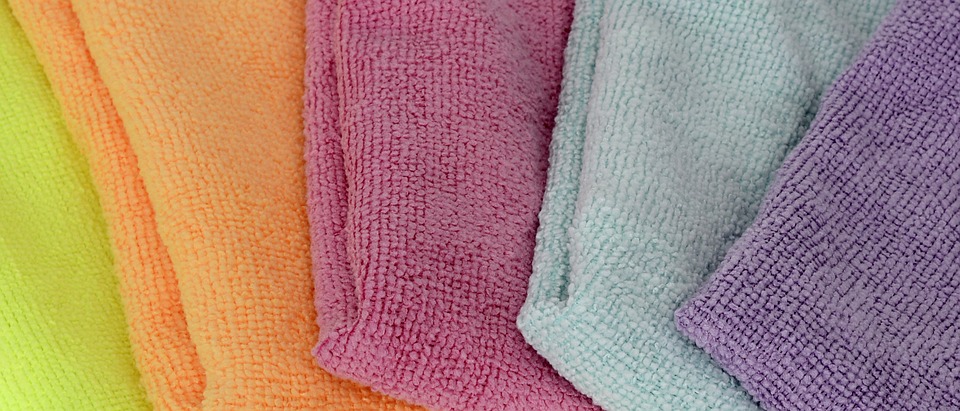 Baking Soda, Bleach, or Toilet Cleaner and Brush
You will need a form of toilet cleaner to tackle the toilet bowl. If your toilet cleaner is not disposable or flushable, then you will need the traditional brush and any other cleaner like bleach, or baking soda.
Now that you know what is required and why; here are your bathrooms speed cleaning steps.
Put the dirty towels in the laundry basket, and clear the sinks and counters of any unnecessary or used up items. Place the bin outside for now.
Flush the toilet and distribute generous amounts of bleach or baking soda inside the bowl and around the toilet areas.
Spray the bathroom cleaning solution on every surface to be cleaned. This includes the mirrors, countertops and sink, inside the toilet bowl, around the toilet bowl, the toilet lid and cistern. Spay the solution in the bathtub, and the walls surrounding that area. For the toilet, it must be left to sit while you work on the other areas.
If you have done this in more than one bathroom, then go back to the first bathroom to start.
Dampen the microfiber cloth with water and wipe down all the surfaces excluding the toilet. Rinse when necessary and repeat the cleaning process. Next, use the paper towels to dry these clean areas.
Now, for the toilet use the brush to wash within the bowl and flush. You can use a designated microfiber cloth or paper towel to wipe down the entire toilet.
Next use the cleaning wipes for a final clean. Flush again, and the toilet is done.
Replace the bathroom items such as clean towels and new products.
Sweep the floor, and do a quick cleaning with a damp rag or any other suitable tool. Move on to the next bathrooms and the speed cleaning process is complete!
Sometimes, we get so busy there's hardly much time to clean up after ourselves or our family. This bathroom speed cleaning steps may be all you need, or you can contact us at Glimmr, to book a one-off house cleaning in Birmingham.
Glimmr is a cleaning company in Birmingham offering homes cleaning service in Birmingham. Glimmr stands out amongst cleaners in Birmingham because we provide spot-on services most professionally.
If you are interested in reading more cleaning tips such as removing limestone from your home, then read on here.
We are thorough and well equipped to deliver on a bright home within a limited time. Do feel free to book our services through www.glimmr.co.uk whenever you need them.